"Seeing is believing..."
Overall impression of DJIís XP3.1 Standard is excellent. This is a remarkable piece of equipment for aerial photographers shooting stills, panoramas or videos. It strengthens overall operational safety and minimizes pilot fatigue and stress levels. This will definitely benefit those that work solo. In simple terms, just fly the helicopter to altitude, hover, shoot and land. Itís really that uncomplicated. ďSimpleĒ cannot be stressed any further.
Installation was to some extent straightforward. The challenging part of the installation is deciding how to install XP3.1ís components in relation to the existing installation of other electronics.
GPS hold is excellent on the XP3.1 considering this is merely the standard version. The manual mentions that itís good up to 28Km. It was tested well beyond a 35Km wind and it held. Just point the nose of the helicopter towards the wind. The combination of GPS and IMU sensor is key with itís position holding performance.
Altitude hold is excellent as well. In a no-wind or light wind conditions altitude hold works really well. In a gusty wind condition you will notice the helicopter fighting the wind but still holds its position fairly decent. For video work the XP3.1 will make life much easier in post production. The barometric sensor does an excellent job at preventing sudden climbs or descents. IMU enhances the overall stability of the helicopter. The best way to describe it, for lack of better terms, Itís like riding on ďrailsĒ. Therefore making videos much easier to work with and view.
The pilot has to remember XP3.1ís weaknesses as well. Due to itís "stabilizing" characteristics the helicopterís agility is decreased. Therefore a carefully planned flight path must be prepared ahead of time. Any input in auto pilot mode is slow. Climbs and descents are slow as well as per its specifications. On a windy day descents will be slow or difficult so if hovering at a very high altitude make sure sufficient battery power is available. Otherwise a descent in manual mode, without any stabilization, is necessary, If obstacles must be avoided then quickly switch back to manual mode. A pilot cannot solely rely on the XP3.1 system. The pilot must still be able to fly the helicopter in manual mode, in any orientation and in any weather condition confidently.
Traditional eye-hand-stick-coordination no longer applies when flying with this system. For example in forward flights the cyclic stick is pushed forward. Thatís it; one finger is all that is required. For turns just push the rudder stick left or right. To stop just let go of the controls. Every other correction is done by the system. Hence additional flight training is required to adapt oneself to the new flying method and still be able to switch back to traditional flying style at any given moment.
Future wish list? One "wish" feature is the ability to enable either altitude or position hold separately. Currently both are enabled during auto pilot mode.
Second is the ability to adjust gain, via sliders/knobs, on altitude and position hold separately. This would allow for a more aggressive flying style when required. Hopefully this would also increase the current maximum flight speed of 30Km/h.
Possibly adding an AUX2 and AUX3 for other heli setups that'll require more inputs. One option the manual does not mention is the ability to plug in an second power source into the AUX port for redundancy.
During the review I ended up having to test out various gyros. At first Futaba 611 gyro was installed which did not function properly with the XP3.1. There was a tail "twitch" in both Manual and Auto mode in heading hold. The "twitch" was fixed but a drift issue came about shortly afterwards. This was never resolved. So as per my testing I cannot recommend Futaba 611 until this issue is resolved. I'll look into this further later on.
Futaba 401 gyro with 9254 tail servo was installed and worked properly (as recommended by DJI). This was easy to setup.
Spartan ds760 AVCS gyro was tested with Futaba 9254, 9256 and BLS251 tail servos and worked properly as well. Acceleration and Deceleration profiles were reduced to avoid the "twitch". Rudder sensitivity was also reduced.
JR G770 3D gyro with S890G tail servo was tested and worked properly.
SJGD PG800 AVCS gyro with Futaba 9254, 9256 and BSL251 worked as well. Again, acceleration and deceleration were reduced to avoid "twitching".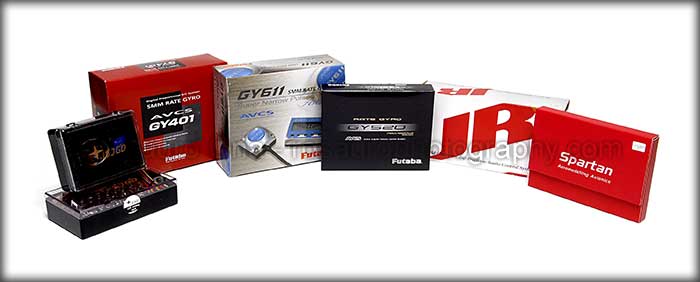 Left to right: SJGD PG800, Futaba 401, Futaba 611, Futaba 520, JR G770 3D and Spartan ds760.
The last gyro I tested was the Futaba 520. This gyro is really small compared to its peers. For those concerned about weight then this would be it. Performance is as expected; perfect. It was tested with 9254, 9256 and BLS251. Easy to setup. No control unit. Computer interface via USB is optional. No twitching or drifting. Non-plastic body. Holds rock solid.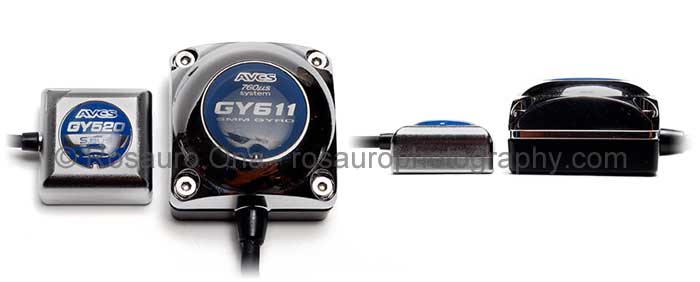 Futaba 520 and 611 compared side-by-side.
Out of all these gyros I would have to say Futaba's 520, Spartan's ds760 and SJGD's PG800 would be excellent choices as they will allow the use of various tail servos.
But SJGD's PG800 and Futaba 520 has an advantage as it does not require the use of a computer for adjustments in the field. Also found both to have more of a straightforward setup. PG800 has a small control unit to plug into. 520 can be adjusted using its "light" codes. Just an FYI.
Currently XP3.1 does not support flybarless helicopters. As per DJI's testing a combination of XP3.1 and an electronic flybar system is possible. Also the use of the XP3.1 with a multi-head helicopter also works. There are plans to add flybarless functionality to future models.
Customer service is excellent. DJI was contacted numerous times and were very helpful and timely with their responses. I had a power switch issue with the adapter and LED and DJI quickly sent a replacement.
At this price point, with a number of available GPS stabilizers out on the market competing for the ultimate "hold", DJI has definitely come out exceptionally solid with their XP3.1 Standard. Its feature set is by far more than adequate for most aerial photography or video work. Future models with higher precision and features are in development.
---
A special thanks to the RC gurus at Advance RC - APV Canada and Rotor RC for their continued support, contributions and assistance in making this review possible and an enjoyable one.
Also a thank you to "Joyce". Despite the hail storm in May she was willing to continue with the shoot.
It would have been impossible to do this on my own without the help of these folks.
Thanks guys!
PS: I will continue to update this review.
---
Other RC Heli Autopilot Reviews
---
In December 2010 DJI release the Ace One that replaced the XP3.1 Read it here!
---
DISCLAIMER
The use of remote control aircraft models is inherently a dangerous activity that can pose serious injury or total destruction of the aircraft itself if not operated and maintained properly. You must possess a high level of pilot competency to control your aircraft in all conditions. If you are new to this hobby please seek professional help.
The DJI XP3.1 is complicated equipment that requires intermediate to advance remote control helicopter piloting, building and configuration understanding and experience. Even with its failsafe feature there is still a possibility of system failure that can occur that is beyond the system's control. Therefore a ritual pre and post flight inspection should be performed.
I have made every effort to ensure that the information provided in this review is accurate and up-to-date. I will continue to update this review as I receive new information from DJI. If you notice any errors or details that I may have missed please let me know as soon as possible and I will correct them as appropriate.

Any use of information, in text, images or videos, in this review is entirely at the risk of the user. Rosauro Photography assume no responsibility and shall not be liable, directly or indirectly, to the user or any other third party for any damage or injury resulting from the use of the information within this review. Rosauro Photography hereby formally disclaims liability in respect of such abovementioned matters.
---

Thank you!